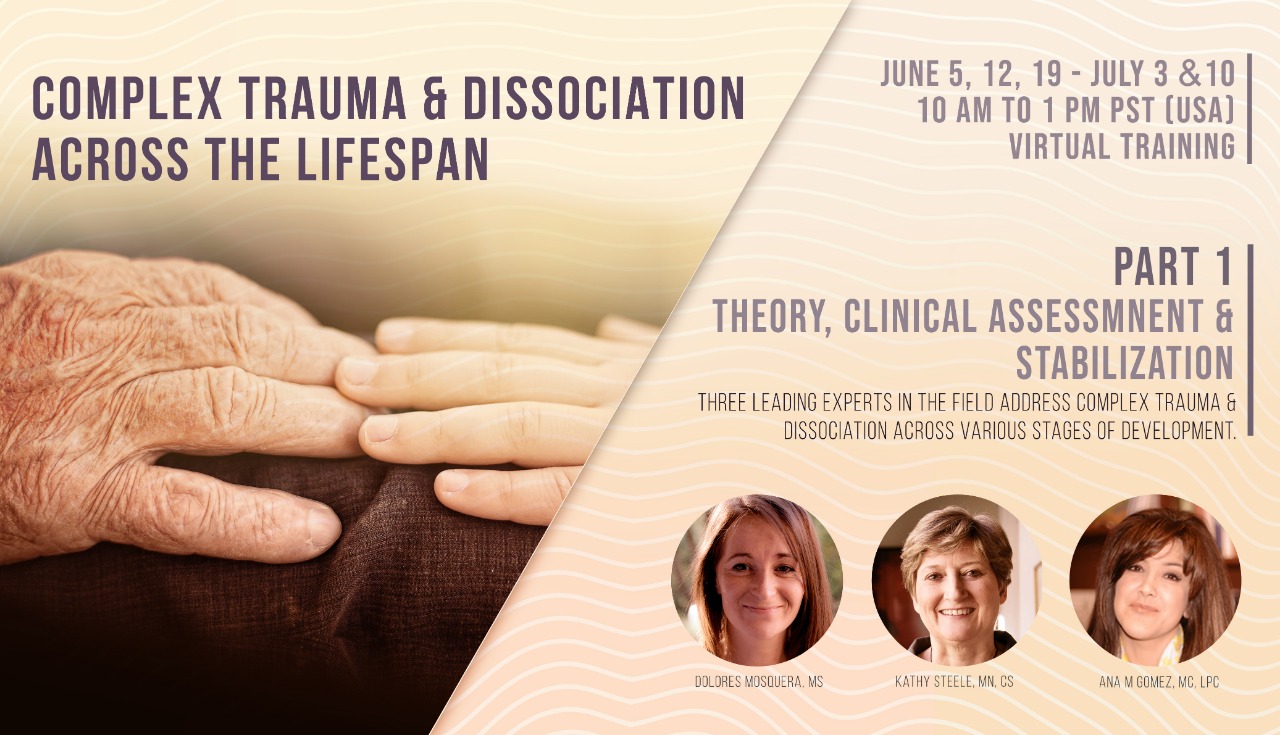 COMPLEX TRAUMA & DISSOCIATION ACROSS THE LIFESPAN
Theory, Clinical Assessment, and Stabilization
Fridays: June 5, June 12, June 19, July 3, & July 10 2020 - 10am - 1:00pm Pacific time
Part 1
Pandemic stresses are further activating dissociative and other entrenched defenses in clients of all ages with complex trauma and dissociation. This may cause significant dysregulation and distress, making treatment more challenging than usual. This training offers a unique integration of approaches across the lifespan, from children to the elderly, providing clinicians with the basic theory, clinical assessment skills, and stabilization strategies to support clients coping with the effects of early and chronic trauma.
Clinicians attending this training will be able to:
MODULE 1: PRACTICAL APPLICATIONS OF THEORY
Friday, June 5, 2020
Differentiate between complex developmental trauma and acute or "single incident" trauma
Cite various theories that address dissociation

Describe the biological and psychological underpinnings and the theories that address it
Describe how dissociation manifests in various stages of development
Discuss what constitutes dissociative parts
Similarities and differences in dissociation in children and adolescents and adults.
Special issues in working with the elderly dissociative client

Describe phase-oriented treatment of complex PTSD and dissociation

Compare approaches to PTSD to those for Complex PTSD and dissociative disorders like DID
List principles and goals throughout the phases

Describe use of language in speaking with children, adolescents and adults about dissociation
MODULE 2: CLINICAL ASSESSMENT
Friday, June 12, 2020
Employ clinical assessment strategies for dissociation in children, adolescents, adults and the elderly
Identify similarities and differences in working with CPTSD and dissociative disorders across the lifespan
Identify relational resources and roadblocks for clients and their parents, caregivers, support systems, dissociative families
Differentiate ego states in cPTSD and dissociative parts in dissociative disorders
List differences between dissociative amnesia and failures to encode: distinguishing between different types of memory problems

Memory issues in young children
Substance abuse in adolescents and adults
Medical issues and memory in the elderly

Describe Schneiderian symptoms indicating lack of voluntary control, including hearing voices
Describe signs of switching from one part to another
MODULE 3: THE THERAPEUTIC RELATIONSHIP
Friday, June 19, 2020
Describe manifestations of disorganized attachment in children, adolescents and adults: Problems with too much closeness or distance
Describe preoccupied and dismissing attachment schemas and tendencies in the therapeutic relationship
Employ a collaborative relational approach that treats all parts as aspects of one person and honors the client's protective needs while promoting realization and integration
Discuss the challenges of caretaking and rescue
Discuss therapeutic boundaries, limits and the therapeutic frame, including how to reset appropriate boundaries
Develop therapeutic relationship and boundaries with child client's parents and caregivers
Demonstrate understanding of how to use attunement, resonance and synchrony
Apply principles of mentalizing: Holding the client's mind in mind as well as our own
MODULE 4: ACCESSING AND WORKING WITH THE DISSOCIATIVE SELF-SYSTEM
Friday, July 3, 2020
Utilize various entry points to access the self-system with children, adolescents and adults

A sequenced approach
Using externalization and "physicalization" techniques (drawing, action figures, Sandtray techniques and playful approaches…)
Demonstrate how to use techniques for inner communication, such as the conference room or Fraser's table

Discuss capacities required for therapy

Working with the adult or "bigger" self in session
Modifications for children (limited mentalizing, regulation, etc.)

Apply principles on how to start working with parts

Stabilizing by working with parts: which parts and system conflicts to start with

Discuss basic approaches to resolving inner conflicts across the lifespan
Describe ways of helping clients find effective ways to communicate internally
MODULE 5: DEVELOPING CAPACITIES AND RESTORING INTERNAL AND EXTERNAL SAFETY
Friday, July 10, 2020
Discuss how to restore safety: external safety and neuroception of safety
Describe caveats about working with dissociative clients
Demonstrate work with parents and caregivers to improve stabilization and safety in children and adolescents

Describe working withing dissociative family systems

Discuss methods to increase emotion regulation and tolerance and tolerance for ambiguity
Describe tools to improve mentalizing capacities
Describe how to help the client's whole system access and utilize skills and capacities
Apply approaches to support titrated co-consciousness.

Beginning with functions and coping in daily life while containing sharing of traumatic memory
The American Psychological Association (APA) Ce-Classes.com is approved by the American Psychological Association to sponsor continuing education for psychologists. Ce-Classes.com maintains responsibility for this program and its content.
The Florida Board of Clinical Social Work, Marriage and Family Therapy and Mental Health Counseling Provider #852 BAP-Expires 3/31/2021
The California Board of Behavioral Sciences. The California Board of Behavioral Sciences, BBS, recognizes relevant course work/training that has been approved by nationally recognized certifying bodies, such as APA, to satisfy renewal requirements.
California Consortium of Addiction Programs and Professionals (CCAPP) Provider Number OS-12-147-0221 Expires 2-2021
The Texas Board of Social Work Examiners, Continuing Education Provider – 5674 expires 4/30/2021.
The Texas Board of Professional Counselors, Continuing Education Provider
Massachusetts Authorization Number: 2117
Ohio Counselor, Social Worker and Marriage and Family Therapist Board – Provider # RCST031201 Expires 5/31/2021
New York Social Work Board – Ce-Classes.com is recognized by the New York State Education Department's State Board for Social Work as an approved provider of continuing education for licensed social workers #SW-0120.