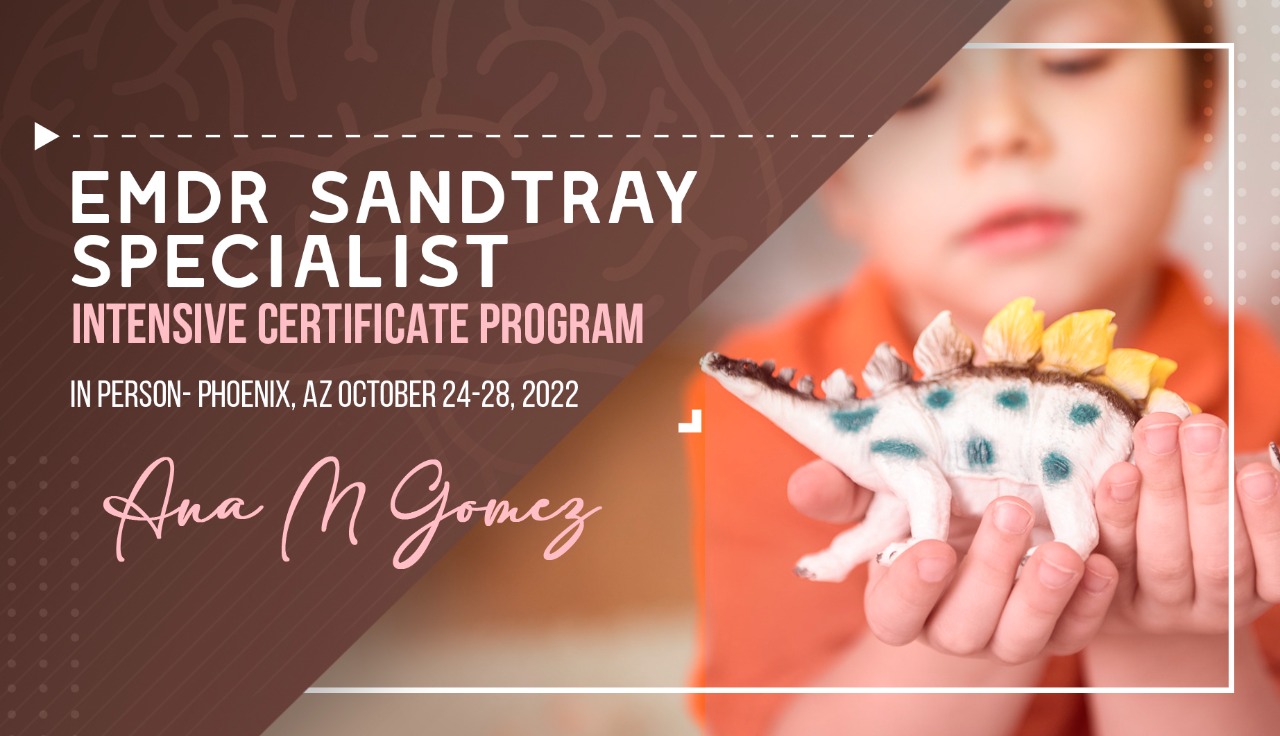 EMDR Sandtray Specialist Certificate Intensive Program – Phoenix, AZ
9 hours of online training
36 hours of an intensive retreat
Overview
The nine-hour online training and the intensive 36-hour retreat is a comprehensive certificate program that includes supervised practice, live demonstrations and videos. You will learn the power of EMDR therapy combined with play therapy and Sandtray strategies with clients of all ages but more specifically with children. You will receive 9 hours of online training where you will learn theory and foundational skills that will prepare you for the intensive retreat. You will learn about Sand play and Sand tray therapy history as well as the difference between the EMDR-Sandtray protocol and other sand tray and sand-based therapies. Following these 9 hours, you will attend an intensive-week long training where you can continue to learn how to navigate through the eight phases of EMDR therapy in the sand tray. You will practice and receive feedback directly from Ana Gomez or AGATE Institute trainers. EMDR therapy combined with Sandtray strategies is especially useful for children that present with dysregulation or constriction of the affective system and require greater distance from the traumatic material due to having endured complex and developmental trauma. In addition, you will learn how sand tray work within the overarching structure provided by EMDR therapy procedural steps can support the work with defenses and trauma related phobias. The EMDR-Sandtray protocol offers various levels of distance from the traumatic material: The actual memory of trauma where the self is present in the story, to the general story/world where the self is absent. Sand based therapies offer a refuge to the embodied mind of the child or the client of any age so stories of trauma can unfold, offering space to the implicit and right hemisphere material to emerge as well as  explicit information that exist in the client's field of consciousness. It is not necessary to have the formal training in sand tray or Sandplay therapy as this protocol has its own procedures and principles rooted within the AIP model and EMDR procedural steps. A thorough hands-on approach is used, as Ana Gomez and the AGATE Institute trainers and facilitators will provide individualized support and guidance as you practice in small groups with over 4000 figures and multiple sand trays. Once you complete the program, you will receive a certificate given by the AGATE Institute and you will be in our website as a referral source.
Objectives
Clinicians will be able to identify, utilize or cite:
Case conceptualization skills to use with children and adolescents as well as adults with complex clinical presentations that may require greater level of distance from the traumatic material.
Basic Sand tray therapy procedures such as how to set up the sand tray, develop miniature collection, explore the child's "world" etc.
The various levels of distance offered by the EMDR-Sandtray protocol.
How to develop resources during preparation phase using the sand tray including:

Safe-calm-happy place
Helpers
Resource spots (Gomez)
The little self-healing place

How to set up the assessment phase honoring the various levels of distance.
Interweaves within the EMDR-Sandtray Protocol using the Interweave Systems Model (ISM) developed by Ana Gomez.
How to work with the body while staying connected to the sand tray and the story
How to work with preverbal trauma
How to playfully do the installation phase and body scan using the EMDR-Sandtray Protocol.
Videos, live demonstrations and lots of pictures of therapeutic work will be presented to give workshop attendees a very tangible and concrete experience
Agenda
8:30 am to 12:00 pm
12 pm to 1 pm- Lunch
1:00 pm to 5:30 pm
Ce-Classes.com is approved by:
The American Psychological Association (APA) CE-Classes.com is approved by the American Psychological Association to sponsor continuing education for psychologists. CE-Classes.com maintains responsibility for this program and its content. 
This course is NOT available for NBCC credit 
This training does not offer ASWB ACE credit to social workers. 
Florida Certification Board 
The Florida Board of Clinical Social Work, Marriage and Family Therapy and Mental Health Counseling Provider #852 BAP-Expires 3/31/2023 
The California Board of Behavioral Sciences. The California Board of Behavioral Sciences, BBS, recognizes relevant course work/training that has been approved by nationally recognized certifying bodies, such as APA, to satisfy renewal requirements. 
 California Consortium of Addiction Programs and Professionals (CCAPP) Provider Number OS-12-147-0223 Expires 02-2023
The Texas Board of Social Work Examiners – CE-Classes.com meets the requirements for acceptable continuing education
The Texas Board of Professional Counselors – CE-Classes.com meets the requirements for acceptable continuing education
Massachusetts Authorization Number: (TBD) 
Ohio Counselor, Social Worker and Marriage and Family Therapist Board – Provider # RCST031201
New York Social Work Board – CE-Classes.com is recognized by the New York State Education
Department's State Board for Social Work as an approved provider of
continuing education for licensed social workers #SW-0120. 
 The Florida Board of Nursing (CE Provider #: 50-4896) Expires 10/31/2022 Do not send certificates to the Florida Board of Nursing. You must keep this certificate for 4 years. 
The California Board of Registered Nursing. CEP 15647 Expires 11/30/2022. 
45 EMDRIA CE Hours: Ana M Gomez, MC, LPC is a  provider approved by EMDRIA. EC Provider #07005
"There is no known commercial support for this program"
"There are no known conflicts of interests for this workshop"
Grievances: All grievances must be in writing to AnaG@AnaGomez.org, and will be replied to within 5 – 10 business days.
Requirements:
EMDR Basic Training Level 1 & 2