Ana M Gómez, MC, LPC, is the founder and director of the AGATE Institute in Phoenix, AZ, with close to 30 years in clinical practice and 23 years delivering EMDR therapy to hundreds of clients across the lifespan, especially children and adolescents. She is an EMDRIA-approved trainer and a Trainer of trainers for EMDR Colombia. She is a psychotherapist, author, and international speaker on using EMDR therapy with children and adolescents with complex and developmental trauma, generational wounds, and dissociation. She has led workshops and keynote presentations worldwide to thousands of clinicians. Ana is a fellow of the International Society for the Study of Trauma and Dissociation (ISSTD).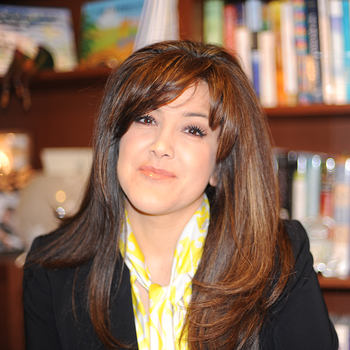 Ana is the author of EMDR Therapy and Adjunct Approaches with Children: Complex Trauma, Attachment and Dissociation, and several books, book chapters, and articles on using EMDR therapy with children and adolescents.
She is the author of eight children's books and therapeutic tools that address trauma and EMDR therapy. She also co-authored with Dr. Francine Shapiro an article on using EMDR therapy with children, published in 2013 and contributed substantially to the children's section in the 3rd edition of Dr. Shapiro's book. Ana received the 2011 "Distinguished Service Award" from the Arizona Play Therapy Association and the 2012 Sierra Tucson "Hope Award."
Ana has developed numerous intensive training programs with over 225 hours of content and protocols, including the "EMDR-Sandtray Protocol" "The Story-Making Protocol" and "The Systemic, EMDR- Attachment Informed Program to Heal Intergenerational Trauma & Repair the Parent-Child Attachment Bond." She has also created "The Multimodal Integrative Approach to EMDR Therapy with Children Affected by Complex Trauma and Dissociation," a unique and comprehensive model to use EMDR with children with complex clinical presentations while preserving the essence and heart of EMDR therapy and its eight phases.
Ana adapted the Group Traumatic Episode Protocol (G-TEP) to children and created the "Butterfly Journey" (C-GTEP), as well as the Parenting Wheel and the Group Parent Empowerment Protocol (G-PEP). She is also an approved GTEP trainer.
In 2019 Ana Gomez and the AGATE Institute partnered with Vermont Permanency Initiative to organize the first Child and Adolescent Complex Trauma Conference in Vermont. For the last ten years, the AGATE Institute, under her guidance and direction, has organized dozens of Online EMDR summits for clients across the lifespan and multiple EMDR trainings and workshops focused on delivering EMDR treatment to clients across the lifespan. In 2017 Ana and the AGATE Institute organized the first Summit of EMDR Therapy with Children.
Ana, as the first EMDR Colombia trainer (her native country), created the EMDR Colombia Association in 2013. She earned the title of "EMDR Trainer of Trainers" in 2017 from the EMDR-IBA and the EMDR Institute with approval from Dr. Francine Shapiro.  As an EMDR trainer of trainers, she trained the first local EMDR trainer in Colombia, Chiquinquira Blandon and a team of consultants and facilitators.
In response to the pandemic in 2020, Ana Gomez invited EMDR trainers and leaders from 30 countries to create the EMDR Child Global Alliance. This incredible group worked tirelessly to deliver free trainings to EMDR clinicians working with children and adolescents and a multitude of resources and books for children to provide support during the pandemic. The Global Alliance organized the first worldwide EMDR congress for EMDR clinicians working with children and adolescents in 2021. Our resources have been translated into over 20 languages and reached children across five continents.
Ana is also trained in Sensorimotor Psychotherapy, Theraplay, Play therapy and Interpersonal neurobiology. She is a strong advocate for animals and the planet. She loves spending time with her family, connecting with nature, dancing, reading and playing! She has been fascinated by the complexities of human existence, quantum physics, and spirituality since she was young.