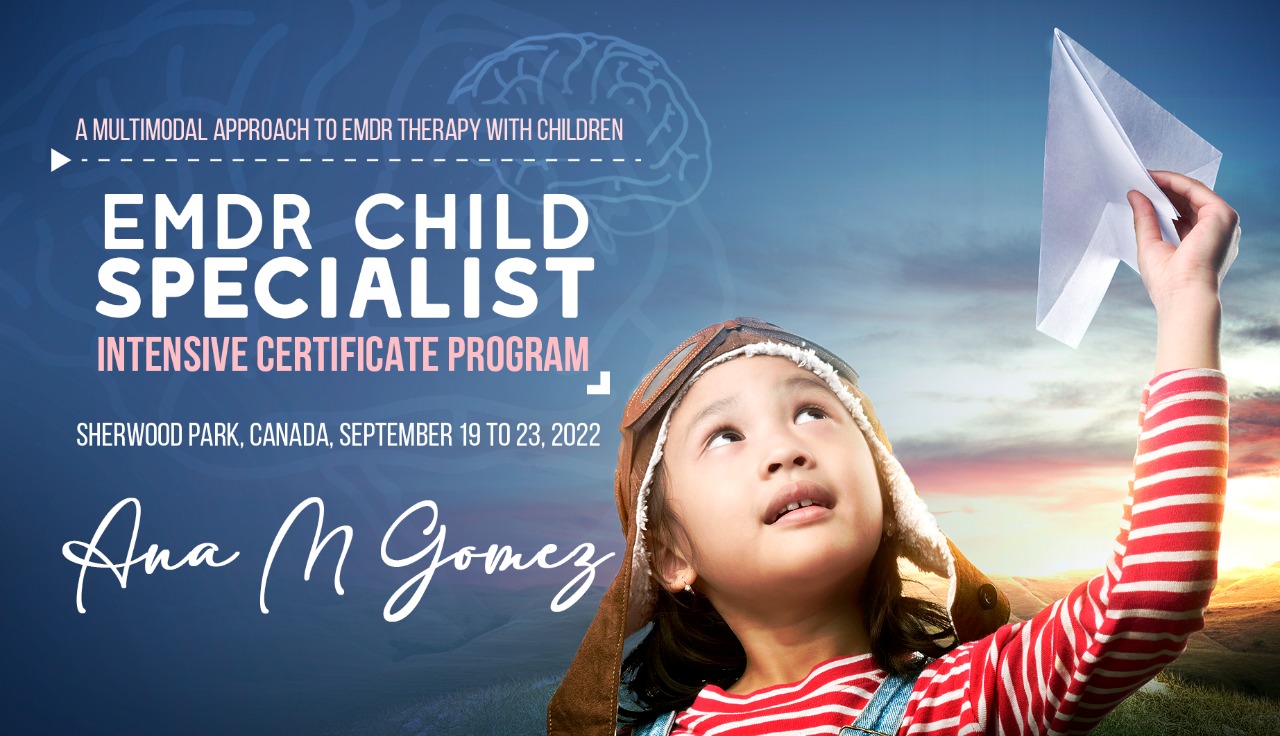 EMDR Child Specialist Certificate Intensive Program – Alberta, Canada
September 19, 2022

-

September 23, 2022
9 hours of online training
36 hours of an intensive in person training
Overview
In this intensive certificate training clinicians will learn advanced skills and practice under the direction of Ana Gomez (or one of the AGATE Institute's trainers), the HOW TOs of EMDR therapy with children. This training will teach in depth case conceptualization using the AIP (Adaptive Information processing) model, attachment theory, affective neuroscience, interpersonal neurobiology, play therapy and the polyvagal theory. In addition, preparation strategies and EMDR games that will provide children with a solid foundation to face traumatic material will be thoroughly presented. This level is recommended for clinicians starting to use EMDR with children or clinicians that need the foundational skills. A thorough hands on approach is used, as Ana Gomez and her team of trainers and facilitators will walk participants through the eight phases of EMDR therapy with children with simple and complex clinical presentations. This intensive certificate program will present elements of the Multimodal Approach  that uses EMDR therapy procedural steps and the AIP model as the overarching structure while incorporating other models and  approaches such as play therapy, expressive arts and more to  meet the developmental demands and needs of children. Clinicians will learn how to make EMDR therapy successful and effective for children. Participants will be able to develop the skills and strategies that are necessary for case conceptualization and the effective implementation of EMDR therapy with children. Theory, videos and supervised practice will be combined  to provide a very tangible experience.
Program level: Full EMDR training required.
Objectives
This intensive certificate training will provide a comprehensive body of knowledge and advance techniques so clinicians can effectively implement the eight phases of EMDR therapy with children.
Clinicians will be able to:
(1) Develop case conceptualization skills and treatment plans based on the Adaptive Information Processing model (AIP), attachment theory, affective neuroscience, interpersonal neurobiology, play therapy theory and the polyvagal theory.
(2) Develop advanced skills in treatment plan development and will have advanced supervised practice in global and phase specific case conceptualization.
(3) Develop basic and advanced skills in preparing children for EMDR trauma processing. This includes resources for stabilization and affect regulation as well as strategies to identify targets using playful and developmentally appropriate float back and mapping strategies.
(4) Utilize advance preparation strategies appropriate for children as well as the organizing principles of initial phases of treatment. This training will cover in depth the skill-building model and the use of EMDR games with children to facilitate the use of the eight phases of EMDR therapy. Emphasis will be placed on the importance of making children acquainted with the different components of EMDR therapy prior to moving into the assessment and desensitization phases. Play therapy strategies to helping children develop cognitive, emotional and somatic literacy so they can access the cognitive, affective, and somatosensory aspects of the trauma memories will be demonstrated.
(5) Utilize concrete and playful strategies to engage children during the assessment phase. In addition, clinicians will learn advanced strategies to set up processing sessions to optimize the child's integrative capacities. These strategies are especially helpful when working with children with sensitized sympathetic nervous systems and children with sensitized dorsal vagal systems.
(6) Participants will also learn how and when to use playful  interweaves that are more suitable for children and the Interweave System's Model (Gomez) as well as a guide and markers for the decision-making process.
(7) This intensive training will cover  play therapy strategies that can be used during the installation, body scan and reevaluation phases of EMDR therapy. In addition, how to help children make new choices and incorporate appropriate behaviors in the future through the use of the future template protocol will be addressed.
(8) Clinicians will have the opportunity to practice in small groups and receive individualized feedback.
Agenda
8:30 am to 12:00 pm
12 pm to 1 pm- Lunch
1:00 pm to 5:30 pm
Friday: 8:30 to 4 pm
Online training:
Upon registration you will receive the links for the three Online modules
Ce-Classes.com is approved by:
The American Psychological Association (APA) CE-Classes.com is approved by the American Psychological Association to sponsor continuing education for psychologists. CE-Classes.com maintains responsibility for this program and its content. 
This course is NOT available for NBCC credit 
This training does not offer ASWB ACE credit to social workers. 
Florida Certification Board 
The Florida Board of Clinical Social Work, Marriage and Family Therapy and Mental Health Counseling Provider #852 BAP-Expires 3/31/2023 
The California Board of Behavioral Sciences. The California Board of Behavioral Sciences, BBS, recognizes relevant course work/training that has been approved by nationally recognized certifying bodies, such as APA, to satisfy renewal requirements. 
 California Consortium of Addiction Programs and Professionals (CCAPP) Provider Number OS-12-147-0223 Expires 02-2023
The Texas Board of Social Work Examiners – CE-Classes.com meets the requirements for acceptable continuing education
The Texas Board of Professional Counselors – CE-Classes.com meets the requirements for acceptable continuing education
Massachusetts Authorization Number: (TBD) 
Ohio Counselor, Social Worker and Marriage and Family Therapist Board – Provider # RCST031201
New York Social Work Board – CE-Classes.com is recognized by the New York State Education
Department's State Board for Social Work as an approved provider of
continuing education for licensed social workers #SW-0120. 
 The Florida Board of Nursing (CE Provider #: 50-4896) Expires 10/31/2022 Do not send certificates to the Florida Board of Nursing. You must keep this certificate for 4 years. 
The California Board of Registered Nursing. CEP 15647 Expires 11/30/2022. 
45 EMDRIA CE Hours: Ana M Gomez, MC, LPC is a  provider approved by EMDRIA. EC Provider #07005
"There is no known commercial support for this program"
"There are no known conflicts of interests for this workshop"
Grievances: All grievances must be in writing to AnaG@AnaGomez.org, and will be replied to within 5 – 10 business days.
Requirements:
EMDR Basic Training Level 1 & 2