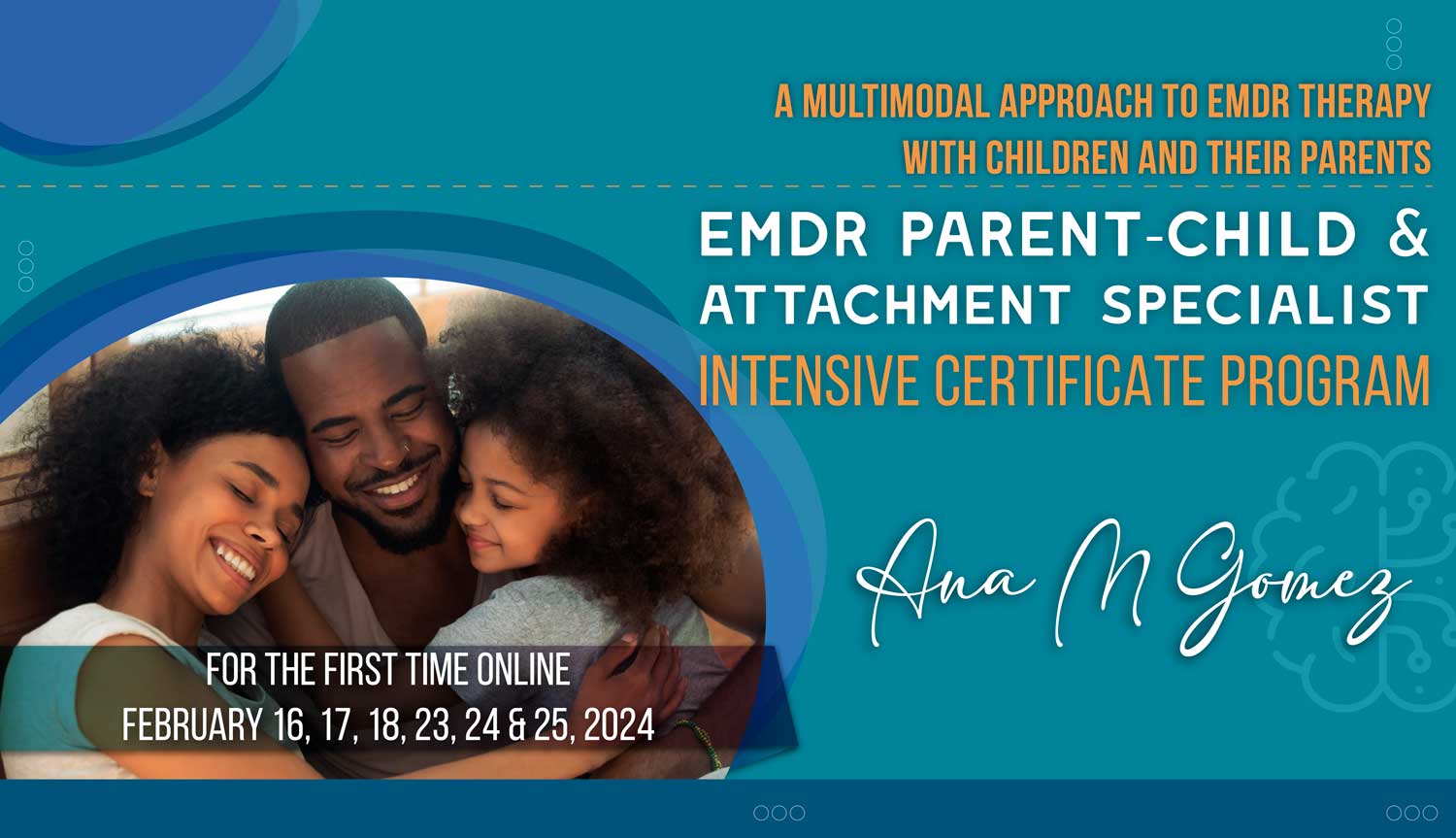 EMDR Parent-Child Attachment Specialist Intensive Certificate Program – Online
February 16, 2024

-

February 25, 2024
Presented by Ana Gomez
Fridays, Saturdays, & Sundays February 16, 17 & 18 and 23, 24, & 25
10am - 5pm Eastern (7am - 3pm Pacific)
Cost: $1250 USD
A total of 46 CEUs (EMDRIA CEUs)
Overview
In the EMDR Parent-Child & Attachment Specialist Intensive Program you will be trained in "The Systemic, EMDR- Attachment Based Program to Heal Intergenerational Trauma & Repair the Parent-Child Attachment Bond" developed by Ana Gomez. You will learn to work with adults (parents) and children using attachment theory and EMDR therapy.
You will have access to 9 hours of pre-recorded online training where you will learn latest research and literature on attachment theory, the AAI (Adult Attachment Interview) and specific tips on how to use it clinically to identify parent's potential tendencies towards insecure states of mind with regards to their own attachment experiences (This does not constitute a formal training in the use of the AAI). In addition, you will learn about other tools to assess and explore the quality of the parent-child attachment bond.
Following these 9 hours, you will attend two weekends Online (6 days, 36 hours) where you will learn how to use the eight phases with parents and children to heal intergenerational trauma. You will learn a model developed by Ana Gomez to work with parents and children that include four different levels of parental involvement: Level 1- Psychoeducation,
Level 2- Emotion regulation and mentalization work, Level 3- Processing &  Level 4-Dyadic work.
You will learn how to work with dismissing, preoccupied and unresolved states of mind throughout the eight phases with parents. In addition, you will learn how to help parents develop attunement so the capacity to "hold the child's mind in mind" (Fonagy) can be promoted.
You will learn to use the "Parenting Wheel" developed by Ana Gomez to teach and practice with parents, co-regulation, mirroring and more.
You will learn how to resource parents and use a number of strategies and protocols such as P-RDI as well as how to use "parts work" with caregivers.
Case conceptualization strategies and Preparation tools that include protocols to enhance the parent's capacity for differentiation and boundary awareness as well as linkage and connection will be addressed.
The use of videos and an EMDR protocol using "video microanalysis" to promote the development of attunement and the capacity of the parent to synchronize to the child's internal states will be studied.
How to develop the treatment plan for the parent and the child will be demonstrated. In addition, the use of Theraplay strategies and the installation of dyadic-regulated states with the child and the parent will be demonstrated. Moreover, how to resource the "parent's younger self" and "the child's little self" will be covered.
A wide range of interventions and interweaves will be presented and thoroughly practiced under the supervision of Ana Gomez and her team of facilitators. These strategies are used with the purpose of assisting parents in assimilating and integrating thwarted attachment experiences that currently inhibit their ability to respond contingently and synchronically to the child's needs and inhibits the child's capacity to connect and attach securely. The EMDR Interweave Systems Model will be covered which presents the use of powerful interweaves that assist parents and children during processing sessions.
Dyadic processing and the use of a number of dyadic-reparative interweaves will be presented, demonstrated and practiced such as: Interweaves that heal the child's "little self" using inner child strategies, ego states, Internal Family Systems (IFS), "Storytelling" and "story-making" a well as intergenerational interweaves that can repair attachment wounds.
Once you complete the EMDR Parent-Child & Attachment Specialist Intensive Program you will be on our website as a referral source.
45 Regular CEs and EMDRIA CEs Pending for approval
Grievances and complaints are reviewed within 8 working days. If you have a formal grievance, please do it in writing. Please expect a response within 10 working days.
"There is no known commercial support for this program"
"There are no known conflicts of interests for this workshop"
Grievances: All grievances must be in writing to info@AnaGomez.org, and will be replied to within 5 – 10 business days.
"Licensed Professionals should contact their regulatory board to determine course approval."