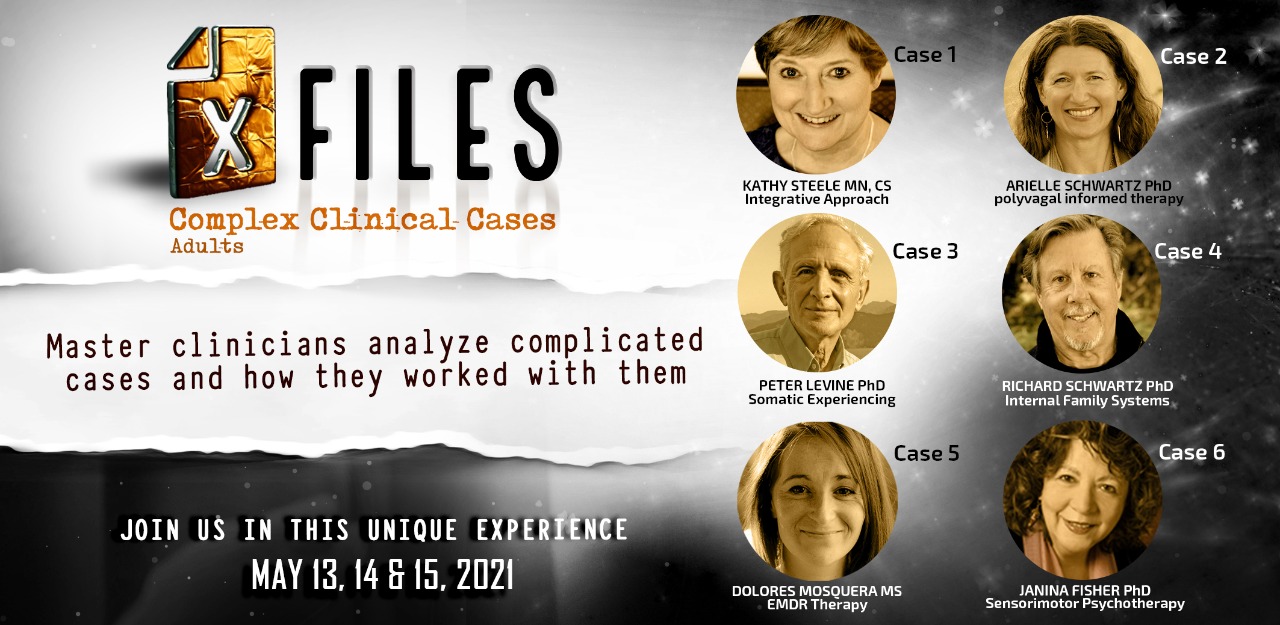 First of Its Kind Series: Complex Clinical Cases with Adults
Master Clinicians Analyze Complicated Cases and How They Worked with Them
Thursday, May 13th -Saturday, May 15th, 2021
Register for Individual Sessions Below
Save 40% when you sign up for the Total Series Bundle both on Children and Adult and receive over 24 hours of this Unique and One of a Kind Series
Join us for this unique and extraordinary series where you can watch and learn from some of the best experts and master teachers in the field as they navigate through some of their most complicated adult cases. You will be exposed to multiple theoretical frameworks and ways of looking at the clinical landscape of Adults with complex clinical presentations.  What theories and what approaches guided their clinical decision making and case conceptualization as well as the treatment strategies they used that proved effective will be presented. These master clinicians will share with us the dilemmas and intricacies they faced and how they resolved them as well as what they discovered from working with these cases that we all can learn from and utilize. A one-of-a-kind Online experience that students and practitioners should attend. This is an incredible opportunity to dive into the heart of clinical practice accompanied by some of the very best!
(All Times Eastern)
Thursday, May 13th 12pm to 2:15pm: Kathy Steele MN, CS
Thursday, May 13th 3pm to 5:15pm: Arielle Schwartz PhD.
Friday, May 14th 12pm to 2:15pm: Richard Schwartz PhD.
Friday, May 14th 3pm to 5:15pm: Peter Levine PhD.
Saturday, May 15th 12pm to 2:15pm: Dolores Mosquera MS
Saturday, May 15th 3pm to 5:15pm: Janina Fisher PhD
X File 1
Thursday, May 13th, 2021
12-2:15PM EST
Kathy Steele, MN, CS has been in private practice in Atlanta, Georgia for over three decades, specializing in the treatment of complex trauma, dissociation, attachment difficulties, and the challenges of complicated therapies. She is an adjunct faculty at Emory University, and a Fellow and past President of the International Society for the Study of Trauma and Dissociation. Kathy teaches and consults internationally and has received a number of awards for her clinical and published works, including the Lifetime Achievement Award from ISSTD.  She has published thee books. The most recent in 2016 is Treating Trauma-related Dissociation: A Practical, Integrative Approach..
X File 2
Thursday, May 13th, 2021
3-5:15PM Eastern
Polyvagal Informed Therapy
Dr. Arielle Schwartz is a licensed clinical psychologist, EMDR Therapy consultant, and certified yoga instructor with a private practice in Boulder, Colorado. She earned her Doctorate in Clinical Psychology at Fielding Graduate University and holds a Master's degree in Somatic Psychology through Naropa University. She is the author of five books including The Complex PTSD Workbook, EMDR Therapy and Somatic Psychology, and The Post Traumatic Growth Guidebook. She is dedicated to offering informational mental health and wellness updates through her writing, public speaking, social media presence, and blog. Learn more at www.drarielleschwartz.com
X File 3
Friday, May 14th, 2021
12-2:15PM Eastern
Internal Family Systems
Richard Schwartz began his career as a family therapist and an academic at the University of Illinois at Chicago. There he discovered that family therapy alone did not achieve full symptom relief and in asking patients why, he learned that they were plagued by what they called "parts." These patients became his teachers as they described how their parts formed networks of inner relationship that resembled the families he had been working with. He also found that as they focused on and, thereby, separated from their parts, they would shift into a state characterized by qualities like curiosity, calm, confidence and compassion. He called that inner essence the Self and was amazed to find it even in severely diagnosed and traumatized patients. From these explorations, the Internal Family Systems (IFS) model was born in the early 1980s.
IFS is now evidence-based and has become a widely-used form of psychotherapy, particularly with trauma. It provides a non-pathologizing, optimistic, and empowering perspective and a practical and effective set of techniques for working with individuals, couples, families, and more recently, corporations and classrooms.
In 2013 Schwartz left the Chicago area and now lives in Brookline, MA where he is on the faculty of the Department of Psychiatry at Harvard Medical School.
X File 4
Friday, May 14th, 2021
3-5:15PM Eastern

Somatic Experiencing
Peter A Levine, PhD, is the developer of Somatic Experiencing®, a naturalistic and neurobiological approach to healing trauma; Founder of the Somatic Experiencing® Trauma Institute/Foundation for Human Enrichment; Founder and President of Ergos Institute of Somatic Education; and author of several best-selling books on trauma, including Waking the Tiger, which is published in over 29 languages. Dr. Levine holds doctorates in both Biophysics and Psychology and is currently a Senior Fellow and consultant at The Meadows Addiction and Trauma Treatment Center in Wickenburg, Arizona and continues to teach trauma healing workshops internationally.
X File 5
Saturday, May 15th, 2021
12-2:15PM Eastern

EMDR Therapy
Dolores Mosquera, is a psychologist and psychotherapist specializing in complex trauma, personality disorders, and dissociation. She is an accredited EMDR Europe Trainer and supervisor. Dolores is the director of the Institute for the Study of Trauma and Personality Disorders (INTRA-TP) in A Coruña, Spain­—a 3-clinic private institution initially founded in 2000.
Dolores has published 16 books and numerous articles on personality disorders, complex trauma, and dissociation. She received the David Servan-Schreiber award for outstanding contributions to the EMDR (Eye Movement Desensitization and Processing) field in 2017, and was made Fellow of the International Society for the Study of Trauma and Dissociation in 2018, for her important contributions to the trauma and dissociation field.
X File 6
Saturday, May 15th, 2021
3-5:15PM Eastern

Sensorimotor Psychotherapy
Janina Fisher, Ph.D. is the Assistant Educational Director of the Sensorimotor Psychotherapy Institute and a former instructor, Harvard Medical School.  An international expert on the treatment of trauma, she is co-author with Pat Ogden of Sensorimotor Psychotherapy: Interventions for Attachment and Trauma (2015) and author of Healing the Fragmented Selves of Trauma Survivors: Overcoming Self-Alienation (2017) and Transforming the Living Legacy of Trauma: a Workbook for Survivors and Therapists (2021).  She is best known for her work on integrating newer neurobiologically-informed interventions into traditional psychotherapy approaches.   More information can be found on her website: www.janinafisher.com.
CE Information
CE-Classes.com is the provider of CE's.
Licensed Professionals should contact their regulatory boards to determine course approval.
Certificates will be awarded after completion of the workshop and will print their own certificate after registering at Ce-classes.com by entering your confirmation number or keycode and completing an evaluation form and quiz.
There are no known conflicts of interest for these workshops.
The American Psychological Association (APA) Ce-Classes.com is approved by the American Psychological Association to sponsor continuing education for psychologists. Ce-Classes.com maintains responsibility for this program and its content.
The Florida Board of Clinical Social Work, Marriage and Family Therapy and Mental Health Counseling Provider #852 BAP-Expires 3/31/2021
The California Board of Behavioral Sciences. The California Board of Behavioral Sciences, BBS, recognizes relevant course work/training that has been approved by nationally recognized certifying bodies, such as APA, to satisfy renewal requirements.
California Consortium of Addiction Programs and Professionals (CCAPP) Provider Number OS-12-147-0221 Expires 2-2021
The Texas Board of Social Work Examiners, Continuing Education Provider – 5674 expires 4/30/2021.
The Texas Board of Professional Counselors, Continuing Education Provider
Massachusetts Authorization Number: 2117
Ohio Counselor, Social Worker and Marriage and Family Therapist Board – Provider # RCST031201 Expires 5/31/2021
New York Social Work Board – Ce-Classes.com is recognized by the New York State Education Department's State Board for Social Work as an approved provider of continuing education for licensed social workers #SW-0120.
Grievances must be put in writing to Info@anagomez.org or info@agateinstitute.org
ADA assistance: Please contact Jim Mason at info@anagomez.org if special accommodation is required.