The nine-hour online training and the intensive 40-hour retreat is done in an intimate setting with a limited number of attendees. This training will teach the EMDR-Sandtray protocol in depth and thoroughly. You will receive 9 hours of online training where you will first be guided in creating your own sand tray miniature collection. You will learn about Sand play and Sand tray therapy history as well as the difference between the EMDR-Sandtray protocol and other therapies using sand tray. In addition, clinicians will learn basic principles of ego state theory, Internal Family Systems as well as the structural dissociation theory. Following these 9 hours, you will attend an intensive-week long training where you can practice and receive feedback directly from Ana Gomez the developer of the EMDR-Sandtray Protocol. This training covers in great depth the eight phases of EMDR therapy with children and adolescents and the use of the EMDR-Sandtray Protocol. This is especially useful for children that present with dysregulation or constriction of the affective system and require greater distance from the traumatic material. In addition, children that use a number of mechanisms of adaptation such as avoidance can highly benefit from using this protocol. The EMDR-Sandtray protocol offers various levels of distance from the traumatic material: The actual memory of trauma where the self is present in the story, to the general story/world where the self is absent. One of the wonderful assets of sand tray therapy is its capacity to access implicit and right hemisphere material through the use of stories, symbols and archetypes. It is not necessary to have the formal training in sand tray or Sandplay therapy as this protocol has its own procedures and principles rooted within the AIP model. A thorough hands on approach is used, as Ana Gomez and the AGATE Institute facilitators will provide individualized support and guidance as you practice in small groups the use of the EMDR-Sandtray Protocol.  Once you complete the program, you will receive a certificate given by the AGATE Institute and you will be in our website as a referral source.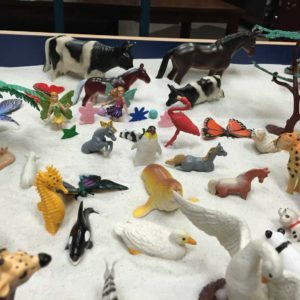 Full  program includes training materials, 49 hours of training, and all breakfasts and lunches
9 hours of online training
40 hours of intensive-retreat training that includes 8 hours of case presentationss
A total of 49 hours of training!
A total of 40 CEUs (EMDRIA CEUs). No credits are given for the 8 hours online
EMDR Basic Training Level 1 & 2
Clinicians will learn:
Case conceptualization skills to use with children and adolescents with complex clinical presentations that may require greater level of distance from the traumatic material.
Basic Sand tray therapy procedures such as how to set up the sand tray, develop miniature collection, explore the child's "world" etc.
To set the various levels of distance offered by the EMDR-Sandtray protocol.
How to develop resources during preparation phase using the sand tray including:

Safe-calm-happy place
Helpers
Resource spots
The little self-healing place

To set up the assessment phase honoring the various levels of distance.
To use interweaves within the EMDR-Sandtray Protocol using the Interweave Systems Model (ISM) such as:

Interweaves directed to meet attachment needs
Interweaves directed to complete truncated defense responses
Interweaves directed to reclaim repressed and dissociated affective states
Interweaves directed to modulate arousal

How to work with the body while staying connected to the sand tray and the story
Learn how to work with preverbal trauma
To playfully do the installation phase and body scan using the EMDR-Sandtray Protocol.
Videos, live demonstrations and lots of pictures of therapeutic work will be presented to give workshop attendees a very tangible and concrete experience
Continuing Education Credits
CEC Information: You will receive 40 CECs from The EMDR Institute:
NBCC: EMDR Institute has been approved by NBCC as an approved ACE Provider, ACEP #5558. Programs that do not qualify for NBCC credit are clearly identified. EMDR Institute is solely responsible for all aspects of the program.
APA: EMDR Institute is approved by the American Psychological Association to sponsor continuing  education for psychologists.  EMDR Institute maintains responsibility for these programs and their contents.
RN: EMDR Institute, Inc. is a provider approved by the California Board of Registered Nursing. Provider #9755 for 20 contact hours/weekend
SW: EMDR Institute, provider #1206, is an approved provider for SW continuing education by the Association of SW Boards (www.aswb.org), through the Approved Continuing Education (ACE) program. EMDR Institute maintains responsibility for the program.  ASWB Approval Period: 8/10/17-8/10/20. Social workers should contact their regulatory board to determine course approval for ce credits. Social workers participating in this course will receive 40 clinical social work ce clock hours.
NYSW: EMDR Institute is recognized by the NY State Education Department's State Board for Social Work as an approved provider of continuing education for licensed social workers #0125. 40 contact hours.
40 EMDRIA CE Hours: Ana M Gomez, MC, LPC is a General provider approved by EMDRIA. EC Provider #07005
40 EMDRIA CEs FOR PARTICIPANTS FULLY TRAINED IN EMDR THERAPY (Part 1 & 2)
Grievances and complains are reviewed within 8 working days. If you have a formal grievance please do it in writing.  Please expect a response within 10 working days.
"Licensed Professionals should contact their regulatory board to determine course approval."