XFiles Series: Complex Clinical Cases with Children
April 15, 2021

-

April 17, 2021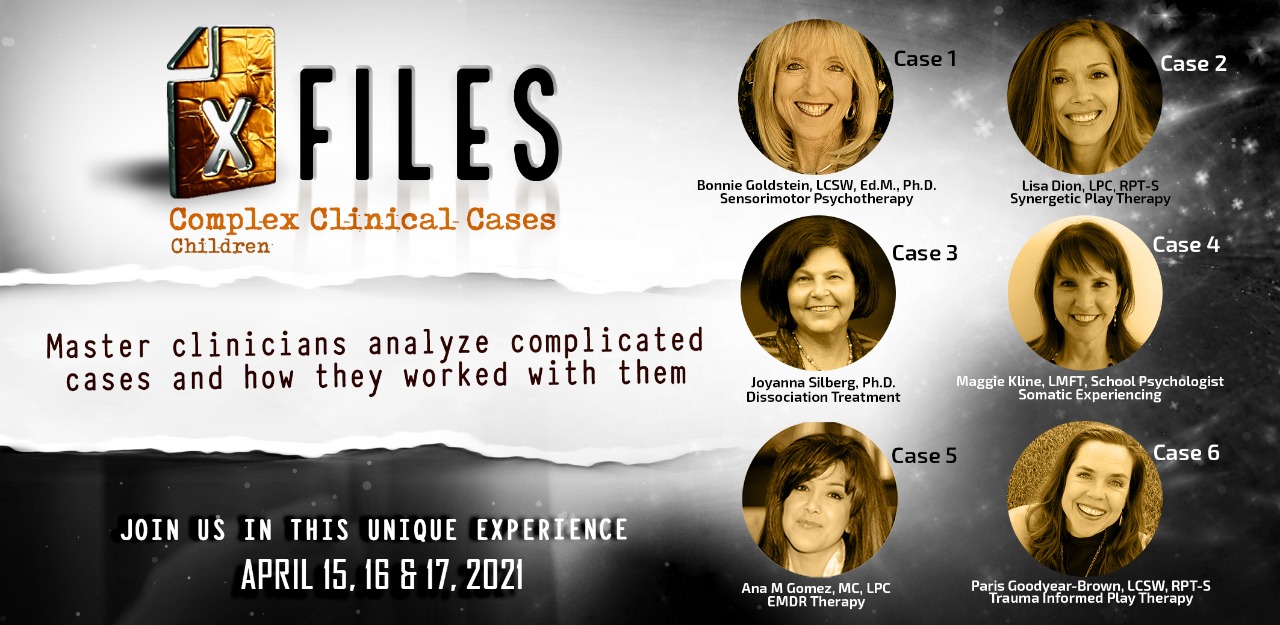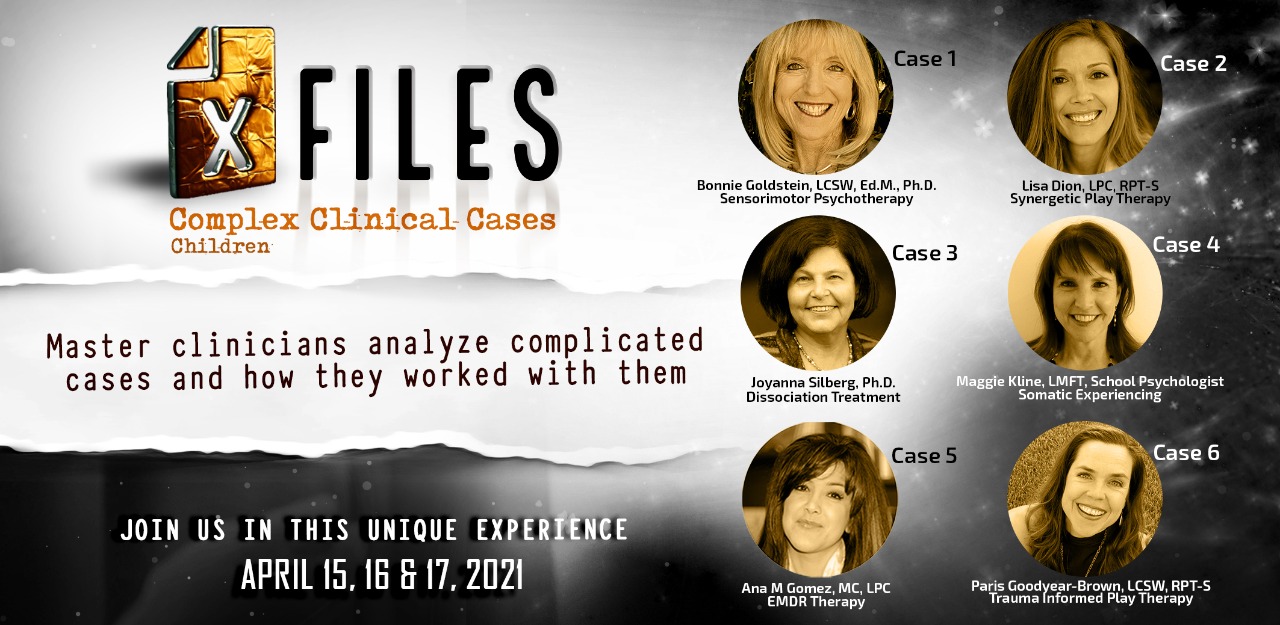 First of Its Kind Series: Complex Clinical Cases with Children
Master Clinicians Analyze Complicated Cases and How They worked with Them
Thursday, April 15th - Saturday, April 17th
Register for Individual Sessions Below
Save 40% when you sign up for the Total Series Bundle both on Children and Adult and receive over 24 hours of this Unique and One of a Kind Series
Join us for this unique and extraordinary series where you can watch and learn from some of the best experts and master teachers in the field as they navigate through some of their most complicated child cases. You will be exposed to multiple theoretical frameworks and ways of looking at the clinical landscape of children with complex clinical presentations.  What theories and what approaches guided their clinical decision making and case conceptualization as well as the treatment strategies they used that proved effective will be presented. These master clinicians will share with us the dilemmas and intricacies they faced and how they resolved them as well as what they discovered from working with these cases that we all can learn from and utilize. A one-of-a-kind Online experience that students and practitioners should attend. This is an incredible opportunity to dive into the heart of clinical practice accompanied by some of the very best!
(All Times Eastern)
Thursday 12:00-2:15: Bonnie Goldstein, PhD
Thursday 3:00-5:15: Lisa Dion, LPC
Friday 12:00-2:15: Joyanna Silberg, Phd
Friday 3:00-5:15: Maggie Klein, LMFT
Saturday, 12:00-2:15: Ana Gomez, MC, LPC
Saturday. 3:00-5:15: Paris Goodyear Brown, LCSW, RPT-S
X File 1
Thursday, April 15th, 2021
12-2:15PM EST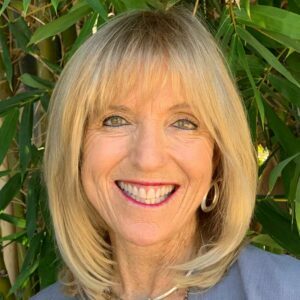 Sensorimotor Psychotherapy
Dr. Goldstein will illuminate practical treatment approaches that can increase our effectiveness with complex child, adolescent, and family dynamics and support small and large shifts in everyday life which can enhance well-being.   This workshop will elucidate ways to understand the "somatic narrative" when treating escalating therapeutic challenges such as anxiety, anger, confusion, helplessness, and hopelessness. Through the lens of Sensorimotor Psychotherapy, we will discuss ways to foster insight and awareness, cultivate resilience and self-compassion, mobilize action, and offer stabilizing developmental movements emphasizing the relational components and psychological implications accessed through physical movement.
1 What are four body-oriented interventions to  manage stress and regulate autonomic arousal to avoid overwhelm or numbing
2 Through the lens of Sensorimotor Psychotherapy, describe the use of embedded relational mindfulness™ to stay present in the midst of conflict with our clients
Bonnie Goldstein, PhD trained at UCLA and Harvard University; she is licensed both as a clinical social worker and clinical psychologist. While at a post-doc fellowship at Rice Davis Child Study Center, she co-edited three books: The two-volume Handbook of Infant, Child and Adolescent Psychotherapy, and Treating Attention Deficit and Hyperactivity Disorder in Children and Adolescents. After the Northridge earthquake that was so traumatic for many children, Dr. Goldstein wrote a book about trauma, published by the American Psychological Association, called, I'll know What to Do: A Kids Guide to Natural Disasters.
Dr. Goldstein is a Southern California coordinator of the Sensorimotor Psychotherapy Certification Trainings and is developing, with Pat Ogden, the Sensorimotor Psychotherapy professional training book for treating children and adolescents. In 1989, she founded and continues to direct the Center for Psychological Services, offering training opportunities for clinical interns, who get to work with one of the nine groups that she has organized to help children and adolescents transition into the next stage of life.
As Director of Clinical Training, she coordinates yearly conferences and workshops on Attachment, Trauma, Mind and the Brain. Dr. Goldstein has a practice in Los Angeles, CA.
X File 2
Thursday, April 15th, 2021
3-5:15PM Eastern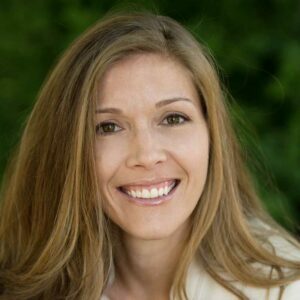 From Detached to Attached:  A Complex Clinical Case Study using Synergetic Play Therapy
Join Lisa Dion for this special presentation as she walks you through her healing journey with Sarah, an eleven year-old girl adopted from China, diagnosed with Reactive Attachment Disorder, Learning Disabilities, Attention Deficit Hyperactivity Disorder, and Autism.  During this discussion, Lisa invites you into her clinical process as she worked towards integration, regulation and re-patterning Sarah's activated nervous system.  Lisa will share how she used Synergetic Play Therapy principles to help her conceptualize treatment for this complex case and ultimately how Synergetic Play Therapy was used clinically.  She will discuss the interventions used as she weaved together non-directive play, directive play, and parent/child relationship play to support the integration of underlying trauma, re-pattern Sarah's ability to attach, and ultimately support her ability to connect to herself, the people in her life and the world around her.
Participants will analyze how Synergetic Play Therapy principles helped conceptualize treatment and ultimately how Synergetic Play Therapy was used clinically.
Participants will examine how non-directive, directive and parent/child play were used to support healing and integration.
X File 3
Friday, April 16th, 2021
12-2:15PM Eastern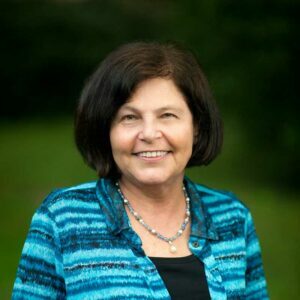 Thank you for warning me how dangerous it could be for me!
In this presentation, Dr. Silberg, will present the case of an 11-year-old boy with dissociative symptoms who was a victim of early complex trauma.
Dr. Silberg will illustrate phases of treatment including psychoeducation, teaching self-regulation skills, working on bridging self-states towards integration. The presentation will help participants learn about sequential treatment steps that address dissociation in children.
Participants will be able to describe two psychoeducational interventions.
Participants will learn how to reframe internal voices as "feelings talking to themselves" and help self-states learn to cooperate.
Participants will be able to describe how to encourage mastery when processing memories.
X File 4
Friday, April 16th, 2021
3-5:15PM Eastern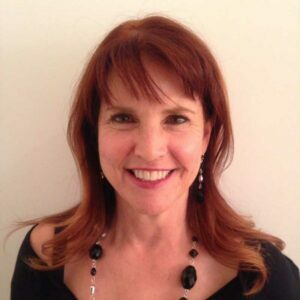 Maggie Klein LMFT, School Psychologist
A Heart-Centered Roadmap for Lance's Healing
This webinar will demonstrate a neuroscience and relationship-based approach to healing. Maggie will highlight two distinctive requisite paths to interrupt trauma-reactive patterns in kids with overwhelming early developmental histories. Maggie will share the healing journey of Lance, a 17-year old boy removed from his home by social services due to emotional, physical, sexual abuse and neglect. He was adopted at 5-years of age and despite having had years of therapy and 11 psychiatric hospitalizations prior to treatment with Maggie, he suffered from depression, aggression, and ADD. The model she developed for Lance is a synergistic application of Dr. Peter Levine's Somatic Experiencing Trauma Healing, Jack Kornfield's Embodied Mindfulness, Dr. Stephen Porges Polyvagal Theory of Neuroception, and Secure Attachment relationship practices.
Through the case presentation of Lance's story and slides, participants will learn the why and how of engaging resistant kids into developing interoceptive awareness necessary for emotional regulation through activities that give them an experiential sense of self as they explore their inner world of sensations and threat arousal cycles in non-threatening ways.
Participants will be introduced to Maggie's  "8 Essentials of Healthy Attachment" and be able to name these components which enable the maturation of the ventral branch of the autonomic nervous system responsible for healthy social-emotional relationships by repairing deficits resulting from early childhood trauma.
Maggie Kline has been a marriage, family and child therapist for over 35 years and is a retired school psychologist. Originally trained in Satir's Family Systems, Gestalt, and Humanistic Psychology, she specializes in trauma recovery through the lens of Somatic Experiencing and embodied mindfulness. Maggie integrates S.E. concepts with art, dream work, movement, and attachment play when working with children and teens. She is a senior Somatic Experiencing instructor teaching internationally and creator of Conscious Connections PlayShops. Maggie co-authored Trauma through a Child's Eyes: Awakening the Ordinary Miracle of Healing (2007) and Trauma Proofing Your Kids: A Parents' Guide to Instilling Confidence, Joy and Resilience (2008) with Dr. Peter A. Levine. Her latest book, Brain-Changing Strategies to Trauma-Proof Our Schools: A Heart-Centered Movement for Wiring Well-Being (2020) is intended to inspire an evolutionary shift to relieve trauma and stress in schools and cultivate a culture of kindness.
X File 5
Saturday, April 17th, 2021
12-2:15PM Eastern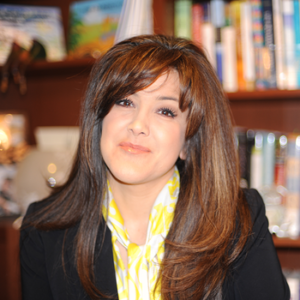 A Hole in My heart: A Story of Healing , Transformation & Integration
This case presentation will show the intricacies of working with a child with developmental trauma, severe neglect and invisibility, extreme dysregulation of the affective system, self-harm, and an inner structure that showed fragmentation and the development of dissociative parts.  Ana Gomez will show how the eight phases of EMDR treatment were organized to meet the needs, demands and self-organization of this child as well as the adjunct approaches such as play, Sandtray, parts work and somatic approaches that were integrated into the eight phases of EMDR therapy. In addition, Ana will present the case conceptualization and moment to moment decision making markers founded on the Adaptive Information Processing model, Polyvagal theory, attachment theory, Interpersonal, and Neurobiology. A systemic EMDR therapy focus will be presented that promotes generational healing and supports the child more efficiently in attaining an integrated sense of self.
Clinicians will be able to:
Identify ways of organizing complex clinical cases throughout the eight phases of EMDR therapy
Utilize strategies that utilize, play, Sandtray therapy and  parts work within thee eight phases of EMDR therapy
Ana M Gómez, MC, LPC is the founder and director of the AGATE Institute in Phoenix, AZ. She is a psychotherapist with 26 years of clinical experience, an author, an EMDR-IBA Trainer of Trainers, and an international speaker on the treatment of complex trauma, intergenerational trauma, and dissociation, and the use of EMDR therapy and adjunct approaches with children and adolescents.  She has led workshops and keynote in more than forty cities in the U.S. and thirty-two cities throughout eighteen countries.
Ana is the author of EMDR Therapy and Adjunct Approaches with Children: Complex Trauma, Attachment and Dissociation, and several book chapters and articles on the use of EMDR therapy with children and adolescents. In addition, she is the author of multiple children's books.
Ana has developed numerous intensive training programs and protocols that include the EMDR-Sandtray Protocol and The Systemic, EMDR- Attachment Informed Program to Heal Intergenerational Trauma & Repair the Parent-Child Attachment Bond.
X File 6
Saturday, April 17th, 2021
3-5:15PM Eastern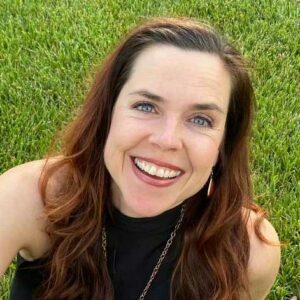 Paris Goodyear Brown
LCSW, RPT-S
From Chaos to Coherence, From Tumult to Trust
Many of the families we serve have significant attachment disturbances that result from neglect or maltreatment. The complexity of these children, who present with developmental trauma disorder, requires a moment-to-moment responsiveness with the goal of enhancing healthy attachments, building coherent narratives, and leaching the toxicity out of trauma memories.  This components based framework provides a scaffolding upon which a myriad of change agents are built. To this end, TraumaPlay® allows for both non-directive and directive play therapy interventions while integrating tenants of Theraplay, TF-CBT and EMDR with somatic work and the critical skills of leaning in and being with. At the core of TraumaPlay® is the Cascade of Care, in which TraumaPlay® therapists are continually pursuing person-of-the-therapist work to stretch our own containment abilities while we grow our roles as Safe Boss, Nurturer, and Storykeeper. This case will focus on dyadic work, highlighting the value of Parents as Partners, as we follow a drug-exposed child, adopted at birth, on a journey with his adoptive parents from Chaos to Coherence, from Control to Connection. Paris will take us through the steps of the model as we follow this family through iterations of risk and reward, all saturated in play, to an ultimate sense of felt safety for child and caregivers alike.
1) List the set of evidence-informed treatment components that comprise TraumaPlay®
2) Describe ten play therapy interventions aimed at enhancing attachments while building coherence in trauma narrative work
Paris Goodyear-Brown, LCSW, RPT-S, certified EMDR therapist, is the creator of TraumaPlay®, a flexibly sequential play therapy model for treating trauma. She is the founder of the TraumaPlay® Institute, the Clinical Director of Nurture House and an Adjunct Instructor of Psychiatric Mental Health at Vanderbilt University. Paris has an international reputation as a dynamic and compassionate speaker, an innovative clinician, and a prolific author. She is a thought leader in the field, has received the APT award for Play Therapy Promotion and Education, gave a Ted Talk on Trauma and Play Therapy, served as the Executive Director of the Lipscomb Play Therapy and Expressive Arts Center, is on the board of TNAPT, and is the author of multiple chapters and articles related to child therapy as well as eleven books, including the hot off the press volume Parents as Partners in Child Therapy: A Clinician's Guide.
CE Information
CE-Classes.com is the provider of CE's.
The American Psychological Association (APA) CE-Classes.com is approved by the American Psychological Association to sponsor continuing education for psychologists. CE-Classes.com maintains responsibility for this program and its content.
Florida Certification Board
The Florida Board of Clinical Social Work, Marriage and Family Therapy and Mental Health Counseling Provider #852 BAP-Expires 3/31/2023
The California Board of Behavioral Sciences. The California Board of Behavioral Sciences, BBS, recognizes relevant course work/training that has been approved by nationally recognized certifying bodies, such as APA, to satisfy renewal requirements.
California Consortium of Addiction Programs and Professionals (CCAPP) Provider Number OS-12-147-0223 Expires 02-2023
The Texas Board of Social Work Examiners – CE-Classes.com meets the requirements for acceptable continuing education
The Texas Board of Professional Counselors – CE-Classes.com meets the requirements for acceptable continuing education
Massachusetts Authorization Number: (TBD)
Ohio Counselor, Social Worker and Marriage and Family Therapist Board – Provider # RCST031201
New York Social Work Board – CE-Classes.com is recognized by the New York State Education
Department's State Board for Social Work as an approved provider of continuing education for licensed social workers #SW-0120.
New York Mental Health Practitioners Board CE-Classes.com, Inc. is recognized by the New York State Education Department's State Board for Mental Health Practitioners as an approved provider of continuing education for licensed mental health counselors. #MHC-0260.
New York Psychology Board CE-Classes.com, Inc. is recognized by the New York State Education Department's State Board for Psychology as an approved provider of continuing education for licensed psychologists #PSY-0211
The Florida Board of Nursing (CE Provider #: 50-4896) Expires 10/31/2024 Do not send certificates to the Florida Board of Nursing. You must keep this certificate for 4 years.
The California Board of Registered Nursing. CEP 15647 Expires 11/30/2024.
This course is NOT available for NBCC credit
This training does not offer ASWB ACE credit to social workers.
Grievances must be put in writing to Info@anagomez.org or info@agateinstitute.org
ADA assistance: Please contact Jim Mason at info@anagomez.org if special accommodation is required.